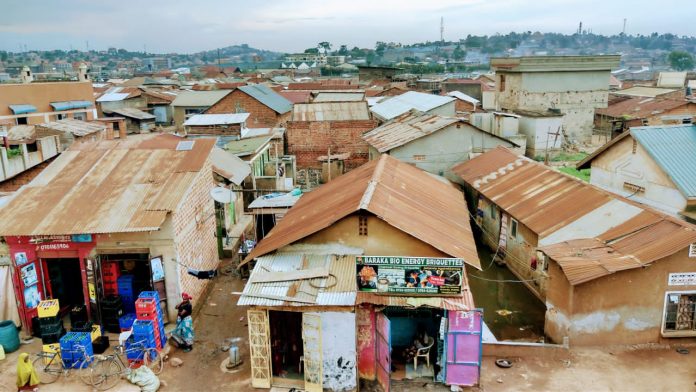 Courtesy Photo: Ariel view of Katwe one of the informal settlements in Kampala.
In recent years, discussions about climate change have dominated global conversations. The impact of human activity on our planet's delicate ecosystem cannot be overstated. While the consequences of climate change are widely and indiscriminately spread globally, the global south remains more vulnerable to climate change challenges owing to high levels of poverty and inequality.  
Courtesy photo: A street in Nkere zone Katwe a slum settlement in Kampala City.
Kampala, Uganda's capital, is one of Africa's fastest-growing cities and is home to over 3 million people, more than half of whom live in informal settlements or slums. These areas exhibit high levels of poverty, inequality, and vulnerability. They face serious environmental challenges, such as poor sanitation, and limited access to electricity, and health care. In addition, these communities face multiple hazards from climate change, especially flooding, heat waves, diseases, and food insecurity. How do the residents of these informal settlements cope with these challenges?
Survival in such risk-prone communities has for the most part been a challenge to many of the urban slum dwellers. However, rather than vacating these risky environs, many are developing local adaptation measures to the risks that they face in their communities.

Courtesy photo: A man being carried on a bicycle to cross a flooded street in Bwaise, a suburb of Kampala.
Some residents have started to practice urban agriculture, growing crops and raising animals in their backyards or on rooftops. This helps them to save money, improve their nutrition, and create green spaces that cool down the temperature and absorb carbon dioxide. Others have installed rainwater harvesting systems, solar panels, and compost/bio-fil toilets that provide them with clean water, energy, and fertilizer. These technologies reduce their dependence on scarce resources and lower their greenhouse gas emissions.
Photo by Francis Mawejje: Plastic cans on a raised platform used as urban gardens in the slum settlement of Mbuya.
"We are forced to develop our own solutions because we cannot find affordable housing elsewhere. This is the only option that we have as slum dwellers." – A resident of Katoogo Kinnawataka.
According to the survey that the recent initiative of profiling climate change hot spots undertaken by the National Slum Dwellers Federation of Uganda and ACTogether, life in the climate risk spots in the informal urban settlements defines the nature of the housing and the kind of household furnishing done.
Photo by Francis Mawejje:  slum dwellers gathered to discuss their climate change issues in Lubya slum Lubaga division.

"When living in these kinds of houses you cannot buy very expensive furniture because any time it rains it can easily flood and then you lose your very expensive stuff. For that reason, we only buy what we can afford to lose." – Resident of Banda.
While human activity has played a role in climate change, it is important to recognize that development and progress are also necessary for societal well-being. The challenge lies in finding sustainable ways to meet needs while minimizing harm to the environment. This, therefore, requires government, city authorities, the private sector, and communities should develop policies and guidelines that should enforce sustainable development and aims to strike a balance between economic growth, social progress, and environmental protection. By adopting green technologies, renewable energy sources, and eco-friendly practices, we can reduce our carbon footprint and mitigate climate change.